Gradall Event Honors Manufacture of 20,000th Excavator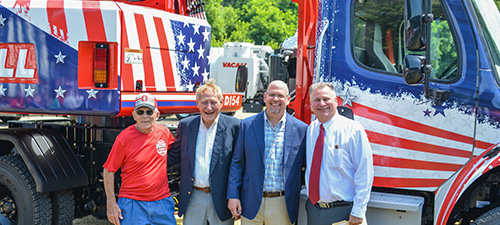 Gradall Industries, Inc., rolled out its 20,000th excavator on Friday, June 24, during a celebration at its headquarters here that included employees, retirees, community leaders and a variety of local, state and federal government officials.

The 20,000th machine was a Discovery Series D154 model, specially wrapped in red, white and blue to signify Gradall's association with the "I Make America" campaign organized by the Association of Equipment Manufacturers. Discovery Series models are Gradall's newest – introduced in February 2015 and positioned as an economical solution for governments that need multi-purpose machines for ditching, grading and street repair.

Mike Haberman, president of Gradall Industries, recognized the importance of government support on every level, welcoming U.S. Rep. Bob Gibbs, State Rep. Al Landis and Mayors Joel Day of New Philadelphia and Rick Homrighausen of Dover to the dais.

"Today is an important day," he said, "as we look back on the history of Gradall, and look forward to the next 20,000 machines manufactured here."

Haberman said three components will allow that continued growth to happen: energy independence, a focus on education and regulatory and tax reform.

"We need people who are focused on careers and living-wage jobs who can raise families," he added. "I truly believe if you allow the American worker the ability, they will drive efficiency. They will drive quality and innovation. And those things drive jobs."

Gradall supports over 300 jobs in New Philadelphia at its state-of-the-art manufacturing facility, where it also produces Vacall vacuum and jetting machines for sewer cleaning, hydro excavation, sweeping and industrial cleanup.

But Gradall actually traces its roots back to the Cleveland area, when the idea of mounting an excavator upperstructure on the back of a mobile truck chassis was seen as a means to handle road construction during manpower shortages connected to World War II.

Warner & Swasey acquired the rights to the excavator and built the first units in 1946, moving the operation to New Philadelphia in 1950. Gradall has had a number of owners since then, including its current parent – the Alamo Group of Seguin, Texas.

"Gradall is part of the fabric of this community," Haberman said, noting that Gradall has a history of being a good corporate citizen while also crediting its many local alliances including the Buckeye Career Center and the Kent State Tuscarawas campus. "We've been here a long time, and we want to stay here a lot longer," he noted.

Gradall is the only manufacturer that produces excavators only in America, creating an appropriate link to the "I Make America" initiative of the Association of Equipment Manufacturers (AEM), which was represented at the event. "I Make America" highlights the manufacturing issues at stake this election season, and promotes the public policies manufacturers like Gradall need to stay globally competitive.

The 20,000th machine was sold to GS Equipment, a Gradall distributor in Florida, owned by the Ferwerda family – descendants of Ray and Koop Ferwerda, the inventors of the first Gradall prototypes in 1944. Attending Friday's event were Ray Ferwerda Jr., grandson of Koop, and Ray's son, Fred.

"There's a tremendous connection there from the beginning to the end," commented Haberman.

Keys to the machine were handed over to the Ferwerdas by Ted DeMattio, a Gradall retiree who drove the first excavator off the manufacturing floor in New Philadelphia in 1950. The excavator will remain in New Philadelphia through July for community events, then shipped to GS Equipment.

Product support for Discovery Series models is available from the extensive networks of Gradall and Freightliner distributors.


All Gradall excavators are designed, built and supported by Gradall Industries, Inc., with processes that meet ISO 9001-2008 standards. Gradall Industries is wholly owned by the Alamo Group.

Alamo Group, Inc.: For 40 years, we've been a world leader in the design, manufacture, distribution and service of high quality equipment for right-of-way maintenance and agriculture. Our products include tractor and truck mounted mowing and other vegetation maintenance equipment, excavators, street sweepers, vacuum trucks, snow removal equipment, pothole patchers, agricultural attachments and related aftermarket parts and services. We currently produce and assemble products in 16 principal facilities worldwide. Our products are sold through Alamo Group's marketing organizations and our extensive independent worldwide dealer networks under various trademarks and trade names. These include Alamo Industrial, Tiger, Schwarze, Gradall, Vacall, Nite-Hawk, Henke Manufacturing, Schulte, Rhino, M & W, SMC, Herschel, Valu-Bilt, Bomford, Spearhead, McConnel, Twose, SMA, Forges Gorce, Faucheux, Rousseau, Rivard, and others. Alamo Group went public in 1993 and since 1995 has been listed on the New York Stock Exchange as ALG. Visit our website at www.alamo-group.com
RETURN TO NEWS INDEX
It starts with the unique telescoping Gradall boom that handles more jobs efficiently, thanks to its movements and superior strength. Gradall offers a unique range of excavator undercarriages that have reshaped the industry idea of equipment mobility, both on and off highways.