Trade Magazine Honors Gradall Discovery Series Excavators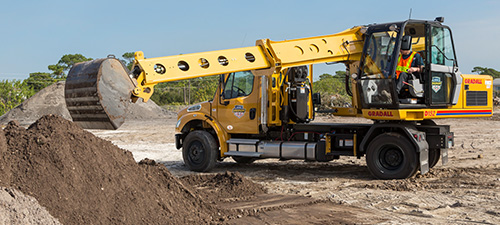 Innovative Gradall Discovery Series excavators, introduced by Gradall Industries in New Philadelphia, Ohio, has earned a spot on the 2016 Contractors' Top 50 New Products list, awarded by Equipment Today magazine and ForConstructionPros.com. This award showcases new equipment and products that construction equipment owners and end users identify as most intriguing.

Recipients of the awards are determined based on new units featured in Equipment Today magazine over a 12-month period, as well as page views and inquires on the ForConstructionPros.com web portal. The list of top 50 new construction products, including the Discovery Series excavators, can be found in the October issue.

Gradall Discovery Series excavators are the construction equipment industry's first crossover hydraulic excavators. Designed to deliver "more dig for the dollar" this cost-effective machine allows governments and contractors to get more jobs done with fewer machines and less money. The Discovery Series is a complete construction project package, combining Gradall's renowned full-tilting, telescoping boom and the reliable over-the-road mobility of the Freightliner truck chassis.

Available in two models, the two-wheel-drive D152 and four-wheel-drive D154, the machines have a 220-degree full boom attachment rotation and 25-foot reach to handle grading, culvert replacement, landscaping, mowing, vegetation control, removal and replacement of curbs, gutters and sidewalks, and more. This excavator can also be driven easily on and off pavement. With a two-axle chassis and an automatic transmission, the Discovery Series excavators can be driven to one or more job sites by achieving highway speeds for fast over-the-road travel. On jobsites, it can be repositioned from the upper structure cab.

Manufactured only in America, Gradall models meet or exceed ISO 9001-2008 standards for quality. For more information about Gradall's Discovery Series models, visit www.gradall.com or call 800-445-4752.

Equipment Today magazine is one of the leading magazines covering the construction industry in North America.

Gradall Industries, Inc., may be contacted at 330-339-2211 , or by mail to 406 Mill Ave. SW, New Philadelphia, OH 44663.


Alamo Group, Inc.: For 40 years, we've been a world leader in the design, manufacture, distribution and service of high quality equipment for right-of-way maintenance and agriculture. Our products include tractor and truck mounted mowing and other vegetation maintenance equipment, excavators, street sweepers, vacuum trucks, snow removal equipment, pothole patchers, agricultural attachments and related aftermarket parts and services. We currently produce and assemble products in 16 principal facilities worldwide. Our products are sold through Alamo Group's marketing organizations and our extensive independent worldwide dealer networks under various trademarks and trade names. These include Alamo Industrial, Tiger, Schwarze, Gradall, Vacall, Nite-Hawk, Henke Manufacturing, Schulte, Rhino, M & W, SMC, Herschel, Valu-Bilt, Bomford, Spearhead, McConnel, Twose, SMA, Forges Gorce, Faucheux, Rousseau, Rivard, and others. Alamo Group went public in 1993 and since 1995 has been listed on the New York Stock Exchange as ALG. Visit our website at www.alamo-group.com
RETURN TO NEWS INDEX
It starts with the unique telescoping Gradall boom that handles more jobs efficiently, thanks to its movements and superior strength. Gradall offers a unique range of excavator undercarriages that have reshaped the industry idea of equipment mobility, both on and off highways.