New Gradall XL 3200V Lo Pro Excavator Can Work on Low-Overhead Jobs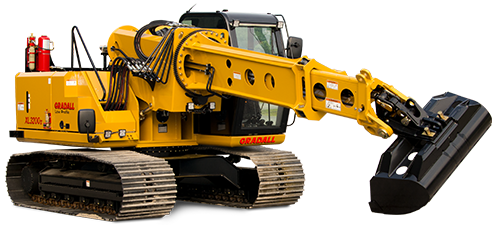 Gradall Industries is introducing the Gradall XL 3200V Lo Pro crawler excavator, designed specifically for extra-low overhead jobs including top-down construction projects, where excavation work must be completed beneath a 10-foot ceiling.

The new XL 3200V Lo Pro model, with a bucket attached to its boom-end, has an overall height of just 9 feet, 5 inches – some 16 inches shorter than the standard 10-foot, 9-inch overall height of an XL 3200 V model with a bucket. Extending the bucket below the ground line to dig also requires just 9 feet, 5 inches feet of height, compared with the standard 14 feet required by the XL 3200V.

"Top-down" is a popular deep construction approach in New England to build underground parking garages and underpasses on tight jobsites where soil movement must be minimized. Permanent structure floors are built underground as the excavation progresses beneath them. Excavation work and soil removal must be accomplished within the limited space between one underground floor and the one above it, typically providing less than enough space for conventional excavators to work.

The standard telescoping boom on a Gradall excavator is uniquely designed to meet the need to operate productively with limited overhead space. Unlike conventional excavator booms, which require extra overhead space for the knuckle boom to function, the Gradall telescoping boom extends straight out, and then retracts with only a minimal height requirement.

The full-boom tilting action, 110 degrees in either direction, along with up to 27 feet, 6 inches of reach allow the operator to scrape dirt away from the floors and walls on a top-down job, and then move the dirt to a glory hole where it can be extracted with a clamshell bucket.

The XL 3200V LoPro has a rated boom force of 21,940 pounds and bucket breakout force of 19,240 pounds, enabling it to handle high production excavation and demolition. The high pressure hydraulics system adjusts automatically to save fuel and eliminate the need for mode selection.

The XL 3200V LoPro model is powered by a Tier 4-Final compliant Volvo Penta engine which meets the highest global standards including the demanding Stage IV (EU) and Tier 4 Final (U.S.) emission reduction requirements.

All Gradall Series V models also have high-performance, high-reliability 24-volt electrical systems, creating an excellent power source. Electronic joysticks, built into the large, comfortable seating module, control all boom tilt, telescoping, swing and raising/lowering motions. An in-cab switch allows the operator to select the Gradall, Deere or SAE joystick pattern.

A compact counterweight design shortens the rear swing of the XL 3200V Lo Pro, permitting the machine to swing and move in tight underground spaces. Maneuverability is enhanced with dual range high torque piston motors on each of the long, stable crawler tracks. Triple grouser excavator pads, with widths of 800 mm or 600 mm, assure mobility in sticky mud, sand and dirt.

For individual crawler speed and direction control, the operator has two electronic foot pedals with handles in the cab. An automatic two-speed control can shift the crawler into low speed for challenging travel conditions. Also, the operator can manually switch from high speed to low speed when loading the machine for transport.

Routine maintenance and adjustments are simplified. For example, track tension is easily controlled with an adjustment cylinder. A recoil spring on each crawler idler keeps rocks and debris from breaking or jamming the track rail, and sealed rollers feature lifetime lubrication. For excellent strength to withstand shocks, the carrier frame is a one-piece weldment. The rugged triangular boom provides excellent protection for the boom tilt motor, located at the rear of the boom.

For more information, find your authorized Gradall distributor or call Gradall, located in New Philadelphia, OH, at 800-445-4752.

All Gradall excavators are designed, built and supported by Gradall Industries, Inc., with processes that meet ISO 9001-2008 standards. Gradall Industries is wholly owned by the Alamo Group.


Alamo Group, Inc.: For 40 years, we've been a world leader in the design, manufacture, distribution and service of high quality equipment for right-of-way maintenance and agriculture. Our products include tractor and truck mounted mowing and other vegetation maintenance equipment, excavators, street sweepers, vacuum trucks, snow removal equipment, pothole patchers, agricultural attachments and related aftermarket parts and services. We currently produce and assemble products in 16 principal facilities worldwide. Our products are sold through Alamo Group's marketing organizations and our extensive independent worldwide dealer networks under various trademarks and trade names. These include Alamo Industrial, Tiger, Schwarze, Gradall, Vacall, Nite-Hawk, Henke Manufacturing, Schulte, Rhino, M & W, SMC, Herschel, Valu-Bilt, Bomford, Spearhead, McConnel, Twose, SMA, Forges Gorce, Faucheux, Rousseau, Rivard, and others. Alamo Group went public in 1993 and since 1995 has been listed on the New York Stock Exchange as ALG. Visit our website at www.alamo-group.com
RETURN TO NEWS INDEX
It starts with the unique telescoping Gradall boom that handles more jobs efficiently, thanks to its movements and superior strength. Gradall offers a unique range of excavator undercarriages that have reshaped the industry idea of equipment mobility, both on and off highways.