Gradall Xl 4100 V Excavator Has Fuel Efficient Volvo Penta Engine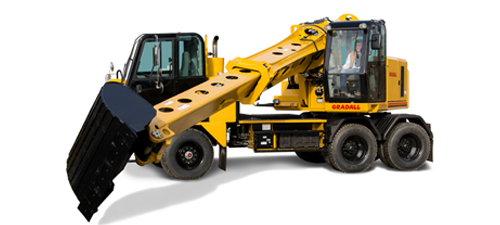 Gradall's new XL 4100 V hydraulic excavator features a Tier 4-Final complaint Volvo Penta diesel engine, meeting the highest global standards including the demanding Stage IV (EU) and Tier 4 Final (U.S.) emission requirements.

In addition, fuel efficiency is improved by up to 5 percent. The single engine is designed to power excavator travel up to 60 mph on highways, or 5 mph for repositioning around job sites from the upperstructure cab.

The same engine also powers the upperstructure boom, including swing motions as well as the famous Gradall telescoping, tiling boom movements. The advanced hydraulic system has pressure-compensated, load-sensing valves with reliefs on all circuits, delivering the right amount of hydraulic power to the boom. This system increases cost-efficiency while performing conventional excavator digging, demolition and barrier placement as well as sloping, finishing, storm and canal cleanup, tree trimming and many other jobs using a host of attachments.

Along with the new engine, Series V excavators include an upgraded high-performance, high-reliability 24-volt electrical system, creating a better power source. An operator cab safety option provides rollover protection that meets safety test requirements and is integrated within the existing cab structure, without external support.

The XL 4100 V has a host of mobility advantages including highway travel speed capability, eliminating the expense, time and manpower needed to transport excavators with an extra truck and a lowboy trailer. At the end of the day, the XL 4100 V models also can be quickly driven back to the safety of the equipment yard. The excavator's ease and speed of mobility is one feature of the Gradall AutoDrive™ package that includes a push-button automatic transmission -- standard equipment that makes travel easier on city streets, interstate highways or on off-the-grid roads.

Maximum boom reach is 30 feet, 3 inches (9.2 m) at grade, while maximum dig depth is 20 feet, 3 inches (6.2 m). Loading height maximum is 17 feet, 2 inches (5.2 m).

Rated bucket force is an impressive 24,900 lbs. (111 kN) while the telescoping boom crowd force is 21,940 lbs. (97.6 kN). Unlike conventional excavators, the telescoping boom forces are constant through the entire dig cycle.

Series V machines have almost 70 percent parts commonality, simplifying the task of maintaining inventories to complete common service functions. These machines also have longer routine service intervals, and most service locations can be reached from ground level. A global network of authorized distributors supports all Gradall excavators, supplying service expertise and authorized Gradall parts.

For more information, contact an authorized Gradall distributor; call Gradall in the USA at 330-339-2211; or visit our website at www.gradall.com.

All Gradall excavators are designed, built and supported by Gradall Industries, Inc., in New Philadelphia, Ohio, with processes that meet ISO 9001-2008 standards. Gradall Industries is wholly owned by the Alamo Group.


Alamo Group, Inc.: For 40 years, we've been a world leader in the design, manufacture, distribution and service of high quality equipment for right-of-way maintenance and agriculture. Our products include tractor and truck mounted mowing and other vegetation maintenance equipment, excavators, street sweepers, vacuum trucks, snow removal equipment, pothole patchers, agricultural attachments and related aftermarket parts and services. We currently produce and assemble products in 16 principal facilities worldwide. Our products are sold through Alamo Group's marketing organizations and our extensive independent worldwide dealer networks under various trademarks and trade names. These include Alamo Industrial, Tiger, Schwarze, Gradall, Vacall, Nite-Hawk, Henke Manufacturing, Schulte, Rhino, M & W, SMC, Herschel, Valu-Bilt, Bomford, Spearhead, McConnel, Twose, SMA, Forges Gorce, Faucheux, Rousseau, Rivard, and others. Alamo Group went public in 1993 and since 1995 has been listed on the New York Stock Exchange as ALG. Visit our website at www.alamo-group.com
XL 4100 V 6 x 4 UNDERCARRIAGE BASIC SPECIFICATIONS

Horsepower

153 hp @ 2200 rpm

Engine

VOLVO TAD571 VE, TIER 4-Final

Weight

(6 x 4) 49,694 lbs. (22,539 kg)

Maximum Reach at Ground Level

30 ft., 3 in. (9.2 m)

Maximum Digging Depth

20 ft., 3 in. (6.2 m)

Boom Tilt

220° Continuous
RETURN TO NEWS INDEX
It starts with the unique telescoping Gradall boom that handles more jobs efficiently, thanks to its movements and superior strength. Gradall offers a unique range of excavator undercarriages that have reshaped the industry idea of equipment mobility, both on and off highways.