Two Gradall Excavator Models Honored Among Magazine's Top 100 New Products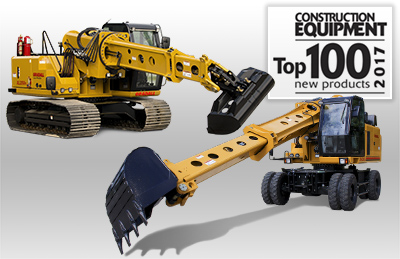 Construction Equipment magazine editors have selected two Gradall excavator models for its list of the 100 most significant products introduced to North American governments and contractors during 2017.

Honored are:
• XL 3200 V Lo Pro crawler excavator, designed specifically
for extra low - overhead jobs including "top-down"
construction projects where excavation work must be completed beneath a 10 - foot ceiling.

• XL 3300 V excavator, with rubber tire undercarriage mobility both on and off pavement. The excavator is distinguished by its stability, able to use its telescoping, tilting boom at the front, rear or sides of the machine without requiring outriggers.

"Our Top 100 New Products of 2017 Awards serve to emphasize innovations, highlighting manufacturers who are investing in research and development," said Rod Sutton, editorial director of Construction Equipment. "Their investments pay off for equipment users in the form of greater productivity, efficiency and safety. They also ensure a competitive marketplace."

Sutten noted that several hundred product introductions were considered in a process that led to the selection of winners. "Our editors made selections independently, drawing upon our own experience with equipment technology and the equipment marketplace," he said.Winners will appear in the December 2017 issue of the magazine.


Alamo Group, Inc.: For 40 years, we 've been a world leader in the design, manufacture, distribution and service of high quality equipment for right-of-way maintenance and agriculture. Our products include tractor and truck mounted mowing and other vegetation maintenance equipment, excavators, street sweepers, vacuum trucks, snow removal equipment, pothole patchers, agricultural attachments and related aftermarket parts and services. We currently produce and assemble products in 16 principal facilities worldwide. Our products are sold through Alamo Group's marketing organizations and our extensive independent worldwide dealer networks under various trademarks and trade names.These include Alamo Industrial, Tiger, Schwarze, Gradall, Vacall, Nite - Hawk, Henke Manufacturing, Schulte, Rhino, M & W, SMC, Herschel, Valu - Bilt, Bomford, Spearhead, McConnel, Twose, SMA, Forges Gorce, Faucheux, Rousseau, Rivard, and others.Alamo Group went public in 1993 and since 1995 has been listed on the New York Stock Exchange as ALG.Visit our website at www.alamo-group.com
RETURN TO NEWS INDEX
It starts with the unique telescoping Gradall boom that handles more jobs efficiently, thanks to its movements and superior strength. Gradall offers a unique range of excavator undercarriages that have reshaped the industry idea of equipment mobility, both on and off highways.