Roads & Bridges Magazine Honors Gradall, Vacall Models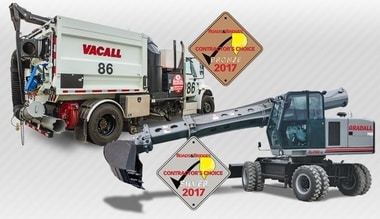 Gradall XL 4300 III excavators and Vacall All-Sweep models, designed and manufactured by Gradall Industries in New Philadelphia, Ohio, have received 2017 Contractor's Choice Awards from Roads & Bridges magazine. The awards were given in 42 categories as a result of balloting by contractors and industry material producers who evaluate construction equipment machines currently available.

Recipient of a Silver Award in the Specialty Excavator category, the XL 4300 III excavator is exceptionally versatile as well as mobile. With a rubber tire undercarriage and four-wheel-drive, XL 4300 III excavators can be driven on paved surfaces without damaging the pavement, plus they are equally mobile off-road on dirt.

Unlike other excavators in the same class, the XL 4300 III models are distinguished by a design that enables them to pick and carry big loads around jobsites, working at the front, rear or either side of the machine without the need for outriggers. The XL 4300 III features Gradall's famous telescoping boom, which can work on low-overhead jobs under bridges and trees – locations where conventional excavators with knuckle booms cannot fit.

Because the entire boom tilts, the XL 4300 III does not lose any power on high-productivity jobs like mass excavation, trenching, spreading rip-rap, demolition and pavement removal. The tilting boom also is able to place buckets, grapples, hammers and other attachments in the exact position required, and precisely place highway barriers without unnecessary swing.

Vacall's AllSweep models, receiving a Roads and Bridges Bronze Award, have the greatest air flow capacity when compared with all vacuum machines designed to clean up runways, parking lots, event venues, highway millings and streets. Independent testing showed AllSweep's centrifugal and blower system produces a maximum airflow of 31,000 CFM, thanks to a unique design by Gradall Industries.

Among the AllSweep's other advantages is the industry's widest sweep path and a single-engine design, which eliminates overall cost, service, fuel consumption and emissions associated with dual-engine sweepers. The broad sweep width capability—actually, wider than the width of the chassis—can make shorter work of big jobs using a single or dual sweep system to collect litter, stones, asphalt millings and debris. Another operator efficiency advantage is a new position memory feature to raise and then restore nozzle height when encountering curbs, speed bumps and other obstacles.

AllSweep models also come equipped with catch basin cleaner hoses, adding to the versatility of the machines. When not in use, the high-power vacuum hose, boom and tubes store compactly against the tailgate.

Roads & Bridges magazine is one of the leading magazines covering the transportation construction and maintenance marketplace in North America.

Gradall Industries, Inc., may be contacted at 330-339-2211, or by mail to 406 Mill Ave. SW, New Philadelphia, OH 44663. See machines online at www.gradall.com and vacall.com.


This news release contains forward-looking statements within the meaning of the Private Securities Litigation Reform Act of 1995. Forward-looking statements are not guarantees of future performance and involve a number of risks and uncertainties that could cause actual results to differ materially from those indicated by the forward-looking statements. Important factors that could cause actual results to differ materially from those suggested by the forward-looking statements include, but are not limited to, the following: (i) general economic and market conditions, including political and economic uncertainty in areas of the world where we do business; (ii) varying and seasonal levels of demand for our products and services; (iii) risks associated with acquisitions; (iv) credit risks from our financing of customer purchases; (v) risks arising from dependence on third-party suppliers; and (vi) costs of raw materials and energy, as well as other risks as detailed in the Company's SEC reports. Gradall, a product brand and a company that has been an industrial mainstay in this city as well as the Tuscarawas County area for over 50 years, has been sold to the Alamo Group Inc. The sale was announced at an employee meeting at the plant today and in news announcements distributed by Gradall, Alamo Group and JLG Industries, Inc., which had owned Gradall since 1999.
RETURN TO NEWS INDEX
It starts with the unique telescoping Gradall boom that handles more jobs efficiently, thanks to its movements and superior strength. Gradall offers a unique range of excavator undercarriages that have reshaped the industry idea of equipment mobility, both on and off highways.