Discovery Series Gradall Excavator Mobility is as Simple as Driving a Freightliner Truck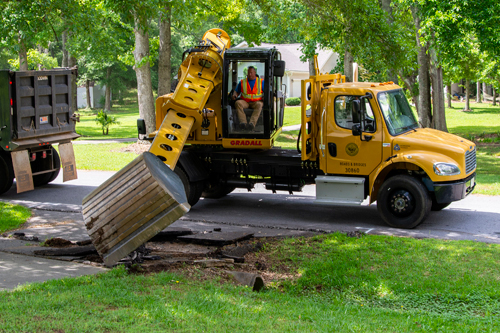 Putting Gradall versatility to work on jobsites is now as easy as driving your Freightliner truck down country roads.

That's because new Discovery Series Gradall excavators combine the versatility benefits of the excavator's full tilting, telescoping boom with the ease of travel designed into the lightweight but rugged Freightliner M2 truck chassis.

The result is the industry's first crossover excavator. Drive it to one or more jobsites in a single day with Cummins 6.7 liter engine, an automatic transmission and a big wheel cut for curb-to-curb maneuverability.

Once on the job, the Discovery Series model does the work of several different machines—ditching, grading, replacing culverts, landscaping, mowing, vegetation control and street and sidewalk repairs, thanks to a range of quick-change attachments and a strong triangular boom that tilts 220 degrees.

Both stylish and comfortable, the Freightliner cab accommodates two people and offers best-in-class visibility with a sloped hood, low profile dash and a 2,500-square-inch windshield.

Meanwhile, the upperstructure cab in the business end of the Discovery Series machine has been designed for comfort, safety and a short learning curve. Operator cabs are quiet with a full view of the job site from an adjustable seating module. The operator can raise, lower, rotate or swing the boom either left or right using joysticks, selecting either the Gradall, Deere or SAE patterns. The entire boom tilts 220 degrees, enabling operators to properly position attachments for tree trimming, sloping, material picking and placement and V-shaped ditches.

Maximum dig depth is about 13 feet, 6 inches (4.1 m) while maximum boom reach is about 24 feet, 11 inches (7.6 m).

Even under bridges and in tunnels, the Gradall productivity continues as the excavator's boom telescopes into position, remaining fully visible through the entire dig cycle. And because of the stability and strength added to the lightweight Freightliner frame and suspension, the Discovery Series excavator continues to be stable during high productivity excavation or when pulling curbs and sidewalks.

Counties, cities and states that once wondered whether they could afford Gradall excavators in their fleet applaud the savings in the crossover concept, delivering on the promise of providing "more dig for the dollar." Available in two-wheel-drive and four-wheel-drive configurations, Discovery Series excavator pricing starts at about $255,000.

For information and a demo, contact your nearby Gradall excavator distributor or call Gradall at 800-445-4752

See more about Gradall models and specifications by visiting the Discovery model page.


Alamo Group, Inc.: For 40 years, we 've been a world leader in the design, manufacture, distribution and service of high quality equipment for right-of-way maintenance and agriculture. Our products include tractor and truck mounted mowing and other vegetation maintenance equipment, excavators, street sweepers, vacuum trucks, snow removal equipment, pothole patchers, agricultural attachments and related aftermarket parts and services. We currently produce and assemble products in 16 principal facilities worldwide. Our products are sold through Alamo Group's marketing organizations and our extensive independent worldwide dealer networks under various trademarks and trade names.These include Alamo Industrial, Tiger, Schwarze, Gradall, Vacall, Nite - Hawk, Henke Manufacturing, Schulte, Rhino, M & W, SMC, Herschel, Valu - Bilt, Bomford, Spearhead, McConnel, Twose, SMA, Forges Gorce, Faucheux, Rousseau, Rivard, and others.Alamo Group went public in 1993 and since 1995 has been listed on the New York Stock Exchange as ALG.Visit our website at www.alamo-group.com
RETURN TO NEWS INDEX
It starts with the unique telescoping Gradall boom that handles more jobs efficiently, thanks to its movements and superior strength. Gradall offers a unique range of excavator undercarriages that have reshaped the industry idea of equipment mobility, both on and off highways.