Gradall Railway Maintenance Machine Video Commemorates the 150th Anniversary of the Transcontinental Railroad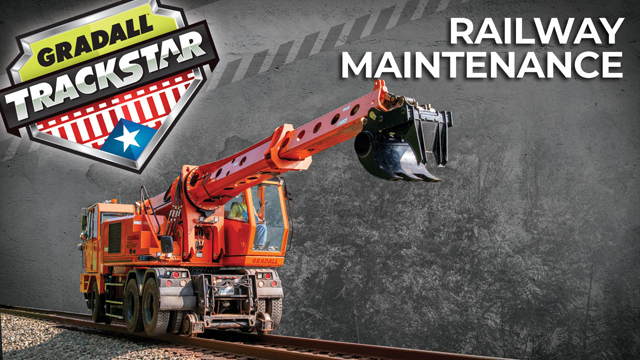 Gradall Industries, Inc., has released a new video providing an in-depth look at the mobility and versatility of its TrackStar line of Railway Maintenance machines. The video – which is just under 4 minutes – details how Gradall's TrackStar machines have helped to advance railway maintenance over the past 75 years.

"The video was produced primarily to illustrate how our TrackStar line of railway maintenance machines can increase productivity by delivering an ideal combination of on-and off-rail mobility," said Mike Popovich, Vice President of Gradall excavator products.

"In addition, these machines are able to do the work of many different machines, handling a wide range of maintenance and construction jobs for railroads, municipal railways, city transit systems and others involved in rail construction, repair and right-of-way work."

Even under catenary systems and in tunnels, the Gradall telescoping boom is able to work productively on low-overhead jobs where conventional excavators and many other machines simply won't fit.

"This video also pays tribute to the rail industry with a commemorative look at the completion of the Transcontinental Railroad and the laborers who provided the back-breaking and even life-threatening work to build and maintain the nation's railroad infrastructure," Popovich added.

You can see the latest model of Gradall TrackStar Railway Maintenance machines at Railway Interchange Booth #1919, September 22-25 in Minneapolis.

View the video now



Alamo Group, Inc.: For 40 years, we've been a world leader in the design, manufacture, distribution and service of high quality equipment for right-of-way maintenance and agriculture. Our products include tractor and truck mounted mowing and other vegetation maintenance equipment, excavators, street sweepers, vacuum trucks, snow removal equipment, pothole patches, agricultural attachments and related aftermarket parts and services. We currently produce and assemble products in 16 principal facilities worldwide. Our products are sold through Alamo Group's marketing organizations and our extensive independent worldwide dealer networks under various trademarks and trade names. These include Alamo Industrial, Tiger, Schwarze, Gradall, Vacall, Nite-Hawk, Henke Manufacturing, Schulte, Rhino, M & W, SMC, Herschel, Valu-Bilt, Bomford, Spearhead, McConnel, Twose, SMA, Forges Gorce, Faucheux, Rousseau, Rivard, and others. Alamo Group went public in 1993 and since 1995 has been listed on the New York Stock Exchange as ALG. Visit our website at www.alamo-group.com.
RETURN TO NEWS INDEX
It starts with the unique telescoping Gradall boom that handles more jobs efficiently, thanks to its movements and superior strength. Gradall offers a unique range of excavator undercarriages that have reshaped the industry idea of equipment mobility, both on and off highways.