WATCH GRADALL INGENUITY AT WORK
---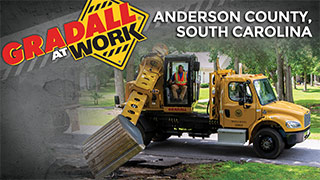 Discovery Excavator Handles Many Jobs
In one day's work Anderson County used its Discovery D 152 to remove a beaver dam that had blocked water from flowing through a drain pipe under a county road, remove and replace a cracked driveway apron, clean out roadside drainage ditches, and cleanup a stretch or road berm.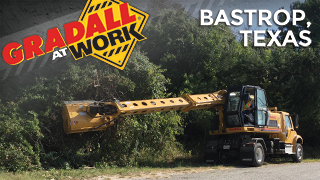 D154 with Flail Mower
The city of Bastrop, Texas purchased their first Gradall, a Discovery Series four-wheel-drive D154 model.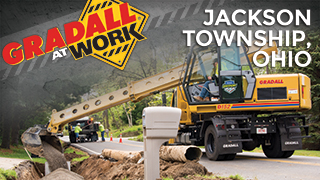 D152 Culvert Replacement
Gradall's excavators have proven to be an excellent equipment option for Jackson Township, Ohio, owning multiple models over the years.
Discovery Series Excavators
Gradall's Discovery Series Excavators, the cost-effective solution for governments and contractors who need to do more work with fewer machines on tight budgets.
It starts with the unique telescoping Gradall boom that handles more jobs efficiently, thanks to its movements and superior strength. Gradall offers a unique range of excavator undercarriages that have reshaped the industry idea of equipment mobility, both on and off highways.