Designed for Government Needs and Budgets, Gradall Unveils New Discovery Excavator Models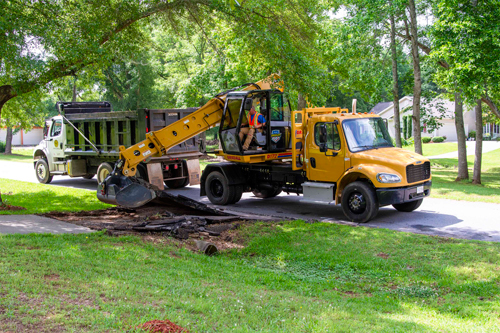 Gradall Industries has introduced two new Discovery Series hydraulic excavator models - D172 and D174 - that are bigger, more muscular and more productive than the previous D152 and D154 models.

The new models benefit from a 36 percent increase in horsepower as well as greater torque to increase travel speed, hill-climbing capability and overall productivity.

Developed in collaboration with Freightliner, Discovery Series models are designed to deliver "more dig for the dollar" - budget-priced Gradall excavator versatility doing work frequently performed by governments and specialty contractors.

Both new models have Freightliner undercarriages – Discovery D172 has two-wheel-drive while the D174 is a four-wheel-drive machine. Both feature a Gradall upperstructure and versatile telescoping, full-tilting boom, able to rotate attachments 220 degrees. The low-profile boom design also allows Discovery Series models to work productively under bridges and in tunnels where mini excavators and tractor loader backhoes can't operate.

D172 and D174 models have 300 horsepower Cummins 6.7 liter engines, enabling them to travel to jobsites and back to the equipment yard at speeds up to 60 mph. When operating the engine from the upper cab, a lower RPM reduces fuel consumption and noise.

The new models also have a new suspension and tires for a solid, stable ride, and greater axle capacity and more counterweight, making the machines capable of using rail gears, snow plows and many more XL Series model attachments.

Gradall boom movements and power, combined with a 25-foot reach, make the Discovery Series models adept at grading, culvert replacement, landscaping, mowing, and vegetation control, as well as removal and replacement of curbs, gutters and sidewalks.

With a compact, tight tail swing, Discovery Series excavators can easily handle ditching and grading work along two-lane roads with only minimal traffic flow interruption. For full working stability, the excavators have front axle lockout cylinders and do not require outriggers, even when working at either side or to the rear of the machine.

The advanced Bosch Rexroth-designed hydraulic system has pressure-compensated, load-sensing valves with reliefs on all circuits. This system supplies the right amount of hydraulic power for the job at hand while also conserving fuel.

The roomy upperstructure operator cab features all-electric joystick controls, heating and air conditioning, and an in-cab switch that lets the operator choose the Gradall, Deere or SAE joystick pattern.

The Freightliner M 2 chassis day cab has two air ride seats, Bluetooth capability, an automotive style flat dash with easy-to-read LED backlit gauges and controls, adjustable steering column, electric powered windows, dual reading lights, radio, and advanced heating and air conditioning systems.

Product support for Discovery Series models is available from the extensive networks of Gradall and Freightliner distributors.

For more information, contact an authorized Gradall distributor; call Gradall in the USA at 330-339-2211; or visit our website at www.gradall.com.

All Gradall excavators are designed, built and supported by Gradall Industries, Inc., in New Philadelphia, Ohio – the only hydraulic excavators manufactured exclusively in the United States. Gradall Industries is wholly owned by the Alamo Group.



Alamo Group, Inc.: For over 40 years, Alamo Group has been a world leader in the design, manufacture, distribution, and service of high-quality equipment for right-of-way maintenance and agriculture. Alamo products include tractor and truck mounted mowing and other vegetation maintenance equipment, excavators, street sweepers, vacuum trucks, snow removal equipment, pothole patchers, agricultural attachments, and related aftermarket parts and services. Alamo currently produces and assembles products in 16 principal facilities worldwide, sold through Alamo Group's marketing organizations and Alamo's extensive independent worldwide dealer networks under various trademarks and trade names. These include Alamo Industrial, Tiger, Schwarze, Gradall, Vacall, Nite-Hawk, Henke Manufacturing, Schulte, Rhino, M & W, SMC, Herschel, Valu-Bilt, Bomford, Spearhead, McConnel, Twose, SMA, Forges Gorce, Faucheux, Rousseau, Rivard, and others. Alamo Group went public in 1993 and since 1995 has been listed on the New York Stock Exchange as ALG. Visit our web site: alamo-group.com.
RETURN TO NEWS INDEX
It starts with the unique telescoping Gradall boom that handles more jobs efficiently, thanks to its movements and superior strength. Gradall offers a unique range of excavator undercarriages that have reshaped the industry idea of equipment mobility, both on and off highways.